Pixie Press Office
For all media enquiries, interviews and/or quotes please call 01736 330201 or email info(at)faeryevents.com . High resolution images are available for festival feature and editorial purposes. Please email for free use of photographs. Television crews can also be accommodated by previous agreement only.
2013 PRESS RELEASE
'Summer Solstice Faery Festival Celebrates 7 Years!'
As the UK's premiere faery festival celebrates 7 years, the Cornwall based 3 Wishes Faery Fest promises magic and fairy dust galore! 
Festival founder and organiser, Karen Kay says, "With the popularity of fairytale and fantasy television series, like 'Game of Thrones' and 'Once Upon A Time', it's easy to see why so many people are starting to become interested in events such as the 3 Wishes Faery Fest. It's an opportunity to express your magical self, in a fun environment with the whole family!".
"Almost everyone was told fairy stories as a child, and it's something that is very deep within us all, so that's why I think my faery events have become so popular – because everyone can relate, even if it's through some distant childhood memory."
This years fairy gathering is extra special, as it not only celebrates 7 years, but also, falls on the summer solstice, and ends on midsummers eve! Karen continues, "There could not be a more magical time than 21st to 23rd June, as far as the faeries are concerned!"
Midsummer is a time of year that is often associated with faeries, and Shakespeare tapped into this with his
play 'A Midsummer Night's Dream', and in honour of this there will be a trapeze performance based around the theme of this popular and timeless classic.
This year we have so many wonderful things for visitors to see and do, and everything is included in the ticket price (except food and purchases made from the Elemental bar and craft stalls).
Once inside the site, you'll feel as if you have been transported into a 'real life' fairyland full of all kinds of magical creatures, with wings, wands, and sparkle!
The music stage runs from midday until midnight each day, and every night you'll see a fire Faery show in the Faery Kingdom Arena. There is also the Elemental Bar inside the giant Dragon's belly!
The festival attracts people from across the UK and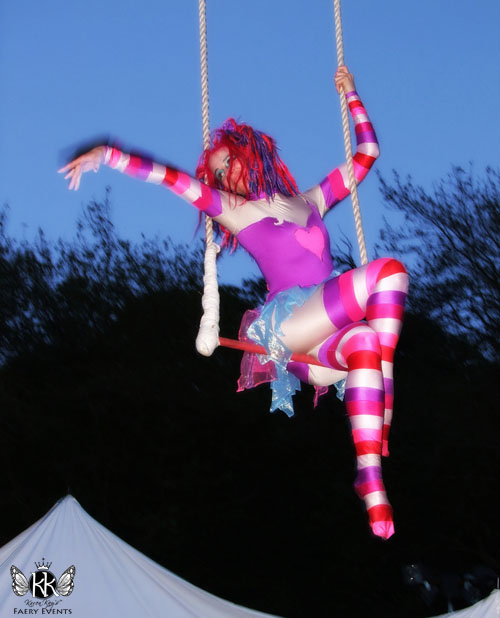 further afield, with some visitors traveling from as far away as the USA and Australia. Karen says, "The UK is known worldwide for it's folklore and fairytales, so it makes sense that people would wish to travel to the UK, and more importantly the south west of England, to visit a faery themed family event. Once you cross over the Tamar Bridge, it's like stepping into a magical bubble, I suppose that's what some folks call 'fairyland'. It really is a tangible feeling, and you can feel that the faeries really do live here on this ancient Celtic land."
As well as activities and fun for the little ones, there's a whole heap of fun for big faeries too. With performances from Celtic Pagan rock band The Dolmen, Seas of Mirth, local band Devonbird and many more besides, there is bound to be a musical delight for every musical taste!
Tickets are £75 for the full 3 days and nights and include access to camping areas (please note tents are not provided – unless you decide to book a luxury camping experience). Children aged between 12 and 16 are £30, and under 12′s are admitted free.
The festival takes place from 21st to 23rd  June 2013. For more information  visit www.3wishesfaeryfest.co.uk or call the ticket hotline on 01736 330201