Hi faery fest peeps!
Hope it's sunny where you are – it's beautiful down here at the ends of the earth in Cornwall.
I'm writing to let you know tickets for 3 Wishes Faery Fest will be posted out this week! Thanks so much for your kind patience, it's a really busy time for us here at 3 Wishes HQ!
CELEBRATING 6 YEARS OF FAERY FUN!!!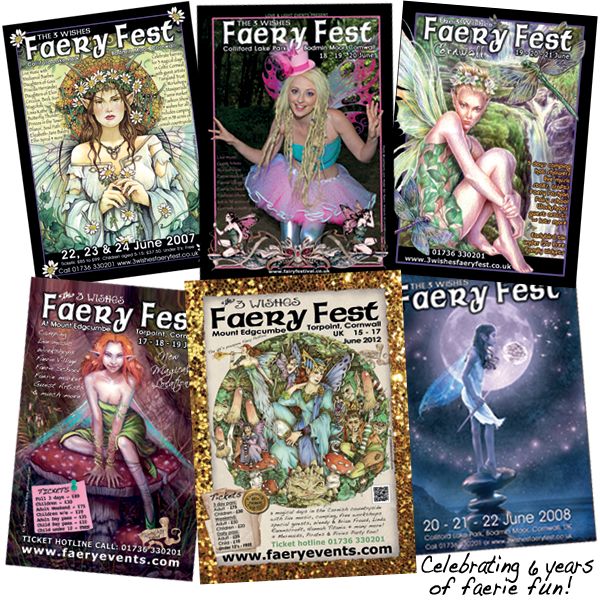 We shall be releasing the fest schedule of bands, stage perormances and workshops next week, so you can plan all the wonderful things you'd like to do and see!
This year we are introducing a Faery Healing Area, so you can recharge your batteries so you will have even more energy for faery fun and frolics!!! CLICK TO APPLY FOR A HEALING/THERAPY SPACE
We are really looking forward to the annual Faery Procession and the March of the Male Fae, which will include a Faery clan flag workshop with none other than the infamous Ahob Goblin! And culminates with a Drum Circle followed by a mad dash to the Giggling Goblin Bar! Sooo exciting 😉
Please feel fee to share this event with your friends on FACEBOOK and help to spread the magic of the fae!
Sign up for the free newsletter at the official website www.faeryevents.com and if you need to contact us email info@faeryevents.com
You will receive another email very soon with a running order with all the exciting things taking places at tis years 3 Wishes Fary Fest on 15 – 17 June at Mount Edgcumbe, Torpoint, Cremylly, Cornwall (Nr Plymouth/Devon border) click here for DIRECTIONS
Faery wishes and pixie kisses!
Karen
xXx