We have finally landed back at the ends of the earth after a wonderful week away in Avalon with the faeries!

Bob Coulson, Karen Kay, Josephine Wall, Michael Tingle, Hannah Titania, Jo's sister.
It could not have been more magical! The sun came out as the faery clan arrived, and the town was full of sparkle and smiles 🙂

The hall was filled with faeries! Photo by Gordon C Burns
People were waiting to come into the fayre before the doors opened at 10.30 on Saturday morning  – and before we knew it the town hall was full of people, all excited to see their favourite artists and crafts folk. It really was a joy to behold.
Wendy Froud, Karen Kay, and Brian Froud
There were so many amazing artists under one roof, including Brian and Wendy Froud (above), Josephine Wall, Linda Ravenscroft…..
Linda Ravenscroft signing her books on the FAE magazine stall. Photo by Gordon C Burns
….Paul Kidby, Terry English, Aaron Pocock, Liselotte Eriksson, Morgan Fitzsimons, and many many more! (I love the way Michael is looking at Morgan in this photo below – it melts my heart).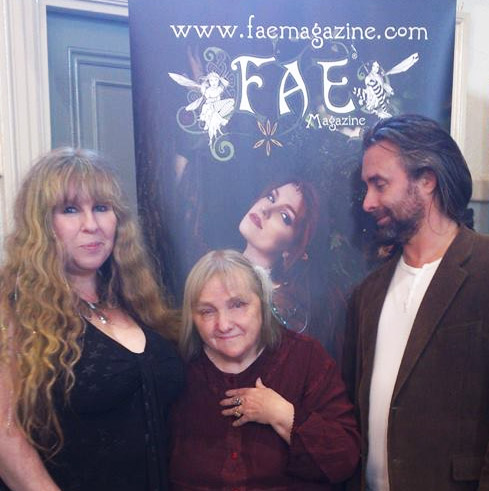 Karen Kay, Morgan Fitzsimons and Michael Tingle
Artist Aaron Pocock joined us all the way from Australia! He spent his time chatting to everyone and also created some amazing paintings on his stand.
Aaron Pocock painting at the fayre. Photo by Gordon C Burns
Master Armourer Terry English and artist Julie Carter also joined us.
Julie Carter & Terry English. Photo by Gordon C Burns
Mother of Faybles, Armorel Hamilton also attended with some new friends!
Alun and Armorel – photo by Gordon C Burns
Trixie Belle welcomed all the FAE magazine customers
Trixie Belle on the FAE magazine & Faery Kisses stall
THEN, it was time to empty the hall to prepare for the Faery Ball!! This time we had a steamfae theme, if you read FAE magazine, you will know all about the steamfae style from columnist Hannah Titania. We had a magical night of faery delight with the Seas of Mirth, Love street, Steampunk Morris and my new band 'FaeReality'!
So, that's all for now folks!
Our next event is the 3 Wishes Faery Fest: Gathering of the Celtic Faerie Clans
FAERY FESTIVAL TICKETS AVAILABLE HERE!
Hope to see some of you there!