As Autumn gently tries to make its presence felt my thoughts are turning to one of my most 'fae' vourite events of the faery calendar! The Samhain Avalon Faery Weekend in Glastonbury!
The special weekend in celebration of faeries at the magical time of Samhain (Halloween) comprises of 4 events! All sponsored by  www.faemagazine.com

1. The Avalon Faery Fayre features special guests, Jasmine Becket-Griffith from the USA, British artists, Linda Ravenscroft, Josephine Wall, Ed Org, Armorel Hamilton and many more to be announced in our next newsletter! The daytime fayre takes place on Saturday 29th and Sunday 30th October at Glastonbury Town Hall. It's free entry for all and doors open from 10.30am on Saturday and 11am on Sunday closing at 5pm on both days. Entry to the Faery Fayre is FREE.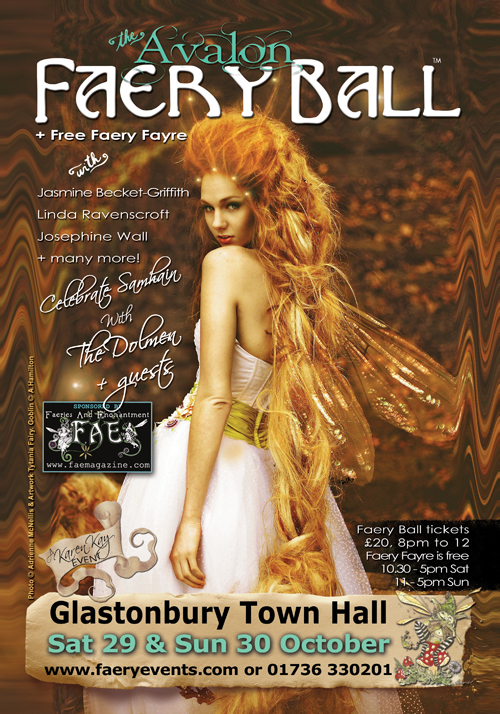 2. The Avalon Faery Ball! Featuring music from The Dolmen, Spriggan Mist, Ziazan La Diva , and your mistress of Ceremonies the extremely hot Felicity fyr Le Fay! On this special night you can dance the night away until the witching hour, dressed in your faery finery. The costumes are always stuning and it is a visual spectacular if ever there was. From ball gowns and tiaras to trash faeries and woodland nymphs, goblins, pixies, trolls and leprechauns too – whatever takes your faery fancy, be creative and have fun! This event tends to sell out in advance so be sure to get your tickets here:
3. The Avalon Children's Faery Ball: For the first time ever we are holding a Children's Faery Ball hosted by the beautiful Sparkle the Fairy and friends!  The Children's Faery Ball takes place during the daytime in the small hall at Glastonbury Town Hall from 2.30pm on Saturday 29th October.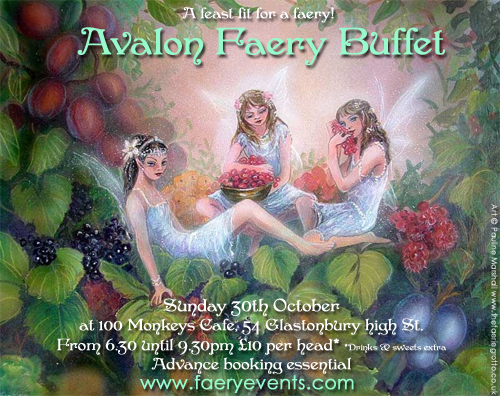 4. The Avalon Faery Buffet – A feast fit for a Faery: Takes place on Sunday 30th October after the fayre from 6.30pm until 9.30pm at the 100 Monkeys Cafe on Glastonbury High Street. There are limited spaces available for this veritable feast so be sure to reserve your spaces here at only £10 a head: Please note drinks and sweets are extra. All diets are catered for from Vegan to Carnivore.
SOME OF OUR LINKS ON FACEBOOK:
Facebook event page for the Faery Ball & Fayre
Facebook page for the Faery Buffet
Facebook page for Karen Kay's Faery Events
Facebook page for FAE Magazine
Facebook page for Mermaids & Mythology Magazine
JOIN US ON TWITTER!