Hi faery peeps! Hope you are having a great weekend 🙂
Time is flying by and it will soon be time to make our way to Glastonbury in the heart of  Avalon for the Samhain/Halloween Faery weekend on the 29th and 30th October.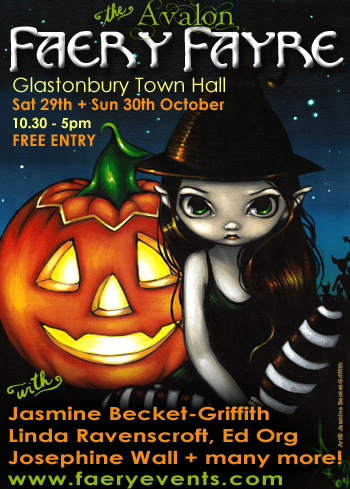 The Avalon Faery Fayre is a FREE event which takes place on the Samhain/Halloween weekend of the 29th and 30th October at Glastonbury Town Hall. Doors open from 10.30am until 5pm on Saturday and from 11am until 5pm on Sunday! entry is FREE! All events during the weekend are sponsored by FAE Magazine
There will be lots of stalls featuring some of the most amazing faery art by some of the worlds leading artists. Jasmine Becket-Griffith will be appearing at this event exclusively for the first time in the UK and will be unveiling art painted especially for this event!  We also welcome UK artists, Josephine Wall, and Linda Ravenscroft, Ed Org, Armorel Hamilton, Emily Carding, Trudi Finch, Tamara Newman, Sally Jacob, Gwen Davies, Alexandra Dawe,  Cherrie Button, James Ewing, Hayley Rust, Sue Rawley, John Pilkington, Sue Clyne, Esther Remmington, Kate Ely, Martin Winkles, Chyna Delamare – the Urban Mermaid, FAE Magazine, Mermaids & Mythology Magazine, StrangelingUK, Ceri Norman, Seelie Court Faeries, Bespoke Costume, Spirit of the Hare Clothing, Jewels of the Hedgerow, The Goddess Within,  Goblin Dreams, Twinkel Littlestar, Sparkle the Fairy, Runwater Shoes,  Dizziness Designs, Kymm Sandum, Shane Davis, Enchanted Faeries, LightRay Silver, Elventree + more!!!
Plus the much talked about:
Avalon Faery Ball – is almost sold out!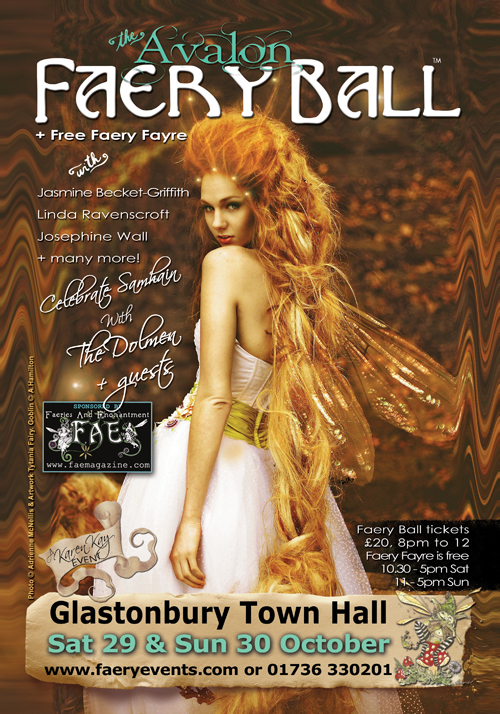 …and something for the little faeries too!
The Avalon Children's Faery Ball
2pm until 4pm on sat 29th October in the Glastonbury Town Hall (small hall) Entry just £5 for fairy fun with Sparkle the Fairy and Seelie Court Faerie friends!
and to end the Avalon Faery Wekend celebrations we finish off with a chilled-out event of food and fun at the AVALON FAERY BUFFET
at the Hundred Monkeys on High Street
For further information on any/all of the above events email us at info@faeryevents.com or call 01736 330201