Hope you had a wonderful Yule, and your festive celebrations were magical. As 2012 approaches we are back in the office making preparations for some exciting activities in the coming months.
Firstly I need to remind you that we have a handful of 3 Wishes Faery Fest earlybird tickets left at £50 each, and from 1st January 2012 they will go back up to the original price of £75.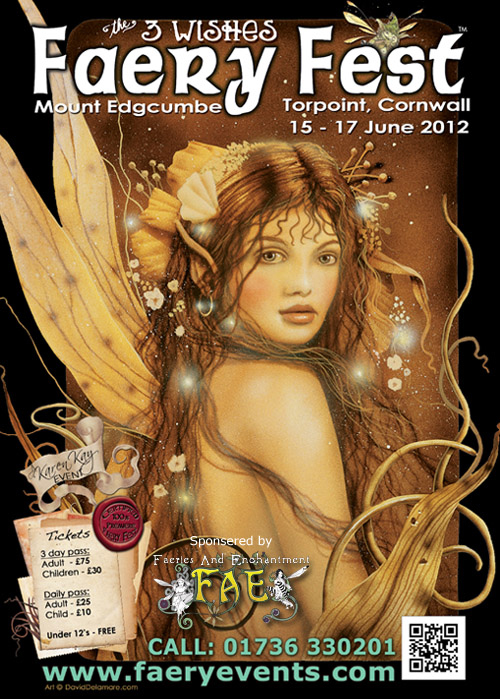 Sponsored by FAE Magazine. Artwork by David Delamare
If you would like to exhibit at any of our events in 2012 please visit the exhibitors page here to apply – please remember we organise specialist faery events, so only original arts and crafts people need apply. There are a few catering pitches available for the 3 Wishes Faery Fest too.
Linda Ravenscroft has created the exclusive T-Shirt design for this years 3 Wishes Faery Fest and we will be revealing this design in the coming weeks!
The next event, and the first event to celebrate the spring is the Avalon Faery Fayre and Avalon Faery Ball in Glastonbury at the Town Hall on 10th and 11th March. We will be announcing special guests and a workshop itinerary in the coming weeks! Tickets for the Avalon Faery Ball can be purchased here
Artwork copyright Brian Froud www.worldoffroud.com
All of our Faery Events are sponsored by FAE Magazine – Faeries And Enchantment, we always bring you exclusive coverage of the Avalon Faery Balls and the 3 Wishes Faery Fest, plus in each issue there is a Fairy diary where we share our recommended faery events for 2012, organised by other organisers in the UK and all over the faery world!