Well, the time is almost upon us when the faeries, pirates, mermaids and steamfae shall gather in the ancient isle of Avalon (Glastonbury UK) to celebrate the onset of SPRING! Yes, spring really is here – and we are going to have a party!
First of all if you wish to attend the evening Faery Ball – Full Steam Ahead, then you can pick up tickets on the door, please arrive early (8pm advised). For your entertainment we have the following: Seas of Mirth, Love Street, FaeReality and the Steampunk Morris Dancers!
Faery Ball Tickets £23 on the door, or from the FAE magazine stall during the daytime.
The two day faery fayre and Steampunk Market is brimming full of amazing stalls, and entry is FREE!
FREE TALKS & WORKSHOPS THIS SAT 8th March! No need to book, just turn up! (*Except for the Frouds' talk)
11am – Morgan Fitzsimons
12 noon – Paul Kidby
12.45 – Flavia Kate Peters
2pm – Terry English
*3pm – Brian & Wendy Froud
*Paid talk: cost £10 (buy ticket on the FAE magazine stall next to the stage in main hall)
EXCLUSIVE – First Preview of their NEW BOOK!
Brian Froud's Faeries' Tales
On Sat 8th March at 3pm – 4.30pm
Glastonbury Town Hall (upstairs council chambers)
Cost: £10 – Tickets from the FAE stall (limited availability)
Brian and Wendy Froud will be giving the very first preview of their new book Brian Froud's Faeries' Tales THIS SATURDAY! Brian will be showing original paintings from the book, Wendy will bring along a 3d character that plays an important role in the book and she will also read some of what the faeries have to say for themselves. This is a UNIQUE OPPORTUNITY to see the original artwork before the book is published, and have Brian and Wendy explain the "hows and whys" of their newest venture. There will be a question and answer session after and Brian and Wendy will be happy to sign books. They will also be signing on their stall in front of the main stage in the main hall on Sat & Sun.
* * *
TALK with 'DISCWORLD' artist Paul Kidby
12noon until 12.35
Paul Kidby is best known for being the 'artist of choice' for the award winning writer Sir Terry Pratchett, and has designed the 'Discworld' book jackets since 2002 and has illustrated many 'Discworld' publications including 'The Art of Discworld' and best-selling 'The Last Hero'. Paul Kidby Official Page will chat about his work, and then take questions from the audience.
* * *
2pm until 3pm on Sat 8th March in the upstairs Council Chambers.
Master Armourer Terry English has been building and creating armour and costumes for the film and entertainment business for over four decades. In his talk he will share some of his experiences and you'll be able to ask him some questions. You will also find him on the stage in the main hall during the weekend.
* * *
Morgan Fitzsimons
11am  – 11.55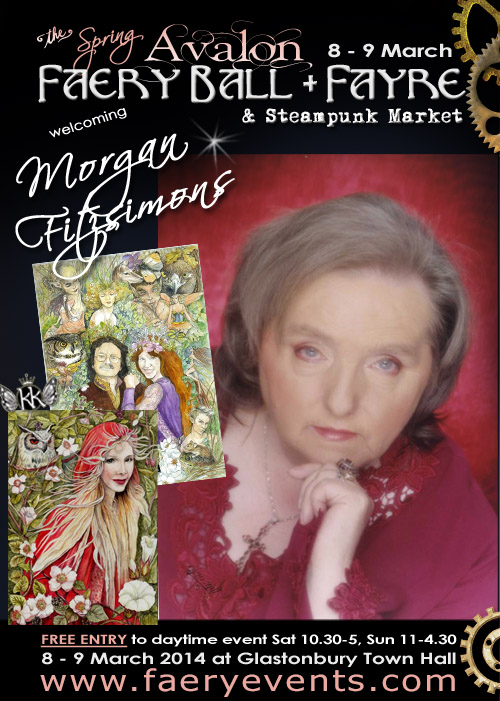 An insight into Morgan Fitzsimons' fae world – how her characters are developed, covering who this elusive artist is and how she works, research and techniques.
* * *
MERMAID MAGIC! with Flavia Kate Peters
12.45 to 1.45.
Seahorse Mermaid artwork by Sue Halstenberg
Mermaids are the guardian angels of the Seas, empowering goddesses of the water. These charming, very beguiling elementals help to ignite our own feminine sensuality and seductive powers, and assist us in recognising and unleashing our true passion.
The mermaids' magic is deep and nurturing. They teach us how to deal with our emotions and they absolutely love to help out with affairs of the heart. They assist us in bringing about abundance & prosperity, which is our very birthright. To connect with the magic of the mermaids we need to raise our energies to their vibration. Once we have connected with our inner mermaid, we are more able to harness our natural powerful manifestation abilities and reap the magic and abundance that has been bubbling under the surface.  In this workshop Flavia Kate Peters invites you to dive in to stir the siren within you, to uncover your own hidden treasure that is waiting to be revealed ….
ALL Talks and workshops take place on SATURDAY 8th March at Glastonbury Town Hall – upstairs Council Chambers