Hello, and may I wish you a very happy, healthy and abundant 2011
The spring issue of FAE Magazine will be published very soon (1st Feb), so if your subscription needs renewing you can do it online here: www.faemagazine.com/shop/subscribe-to-fae-magazine You will also received a free 'Fairy Magic' CD when you subscribe.
Spring Faery Weekend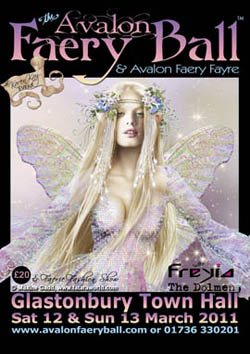 Preparations are well underway for the spring Avalon Faery Ball and free Faery Fayre on 12th and 13th March at Glastonbury Town Hall. Special guest artists Josephine Wall and Linda Ravenscroft will be in attendance along with many more talented artists and craftspeople.  At the Faery Ball music will be provided by the fairytastic 'Freyia' and the mighty 'Dolmen', plus there will be Faery Belly Dancing with Cara, and a Faerie Fashion show too. Tickets for the evening ball are available from the FAE Shop website or by calling 01736 330201.
There are a few exhibitor spaces available for this event, for more details visit the Faery Events website