Wishing you a happy spring, whatever you celebrate, have a happy one!
I think we have finally landed back in faeryland at the ends of the earth! We had so much fun at the Avalon Faery weekend, and it was wonderful seeing friends, known and unknown. (Photo below: Karen Kay & Michael Tingle – event founders)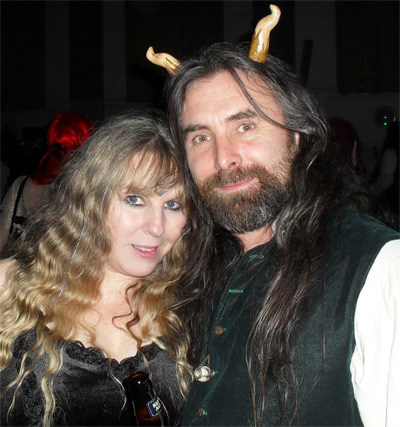 Here are a few photos to give you a flavour of how the weekend went…
The evening Faery Ball was as magical as ever, the music had everyone up on their faery feet dancing the night away, and the fire faeries gave us a spectacular display. Hannah Titania enchanted us all with her Gaelic and English renditions accompanied by her angelic harp. Ghoulias Peculia's welcomed in the spring with a stunning fashion show, and there were giggles galore in the Giggling goblin Bar!
You can order photos taken by Gordon C Burns in the Faery Photographic Studio at the Faery Ball here:
The lovely Linda Ravenscroft and wing maker Twinkle Littlestar
You will also find more photos in the Central Somerset Gazette newspaper
So that's all for now faery folks! We are now busy preparing for the Beltane Cosmic Faery Ball, and the eagerly awaited summer festival, 3 Wishes Faery Fest.
There will be more details on both these events over the coming weeks and months!