IMPORTANT: Old and new stall-holders are more than welcome to apply for all of our events!

 

Due to how traders have been unable to exhibit for so long, the link on the booking form which says about not booking other events in the proximity has now been removed. This is because we need to stand together, exhibitors and organisers, so we can all get back on our feet again and build back stronger!
Please use the form below to apply to exhibit at our Faery events in 2023. Please note, only applications from artists, crafts people and businesses with a faery theme or nature/elemental influence will be considered. We will contact you if your application is successful. Use the drop down menu on the booking application form below to see prices.
Indoor Events – Exhibit at the Avalon Faery Fayres 2023

Cost for Glastonbury stall: £130  for the weekend (two days) or £160 for a wall space with access to an electricity supply (if required). If you use a clothes rail, you can only bring ONE per space booked. Entry to the Fayres is FREE to the public
You will be contacted if your fairy/elemental themed stall application is successful. 
N.B. Faery Ball tickets are not included in the stall fee. Bookings are non-refundable and non-transferable. Stallholders need to dismantle their stalls at the end of each day. You must not go over your allocated space due to health & safety regulations which are strictly enforced by the council.

IMPORTANT: Bookings are for both days only. You must clearly tell us everything you intend to sell on your stall. If you wish to share with another trader else you must ask permission in advance. 
Trader application at Karen Kays Faery Fayre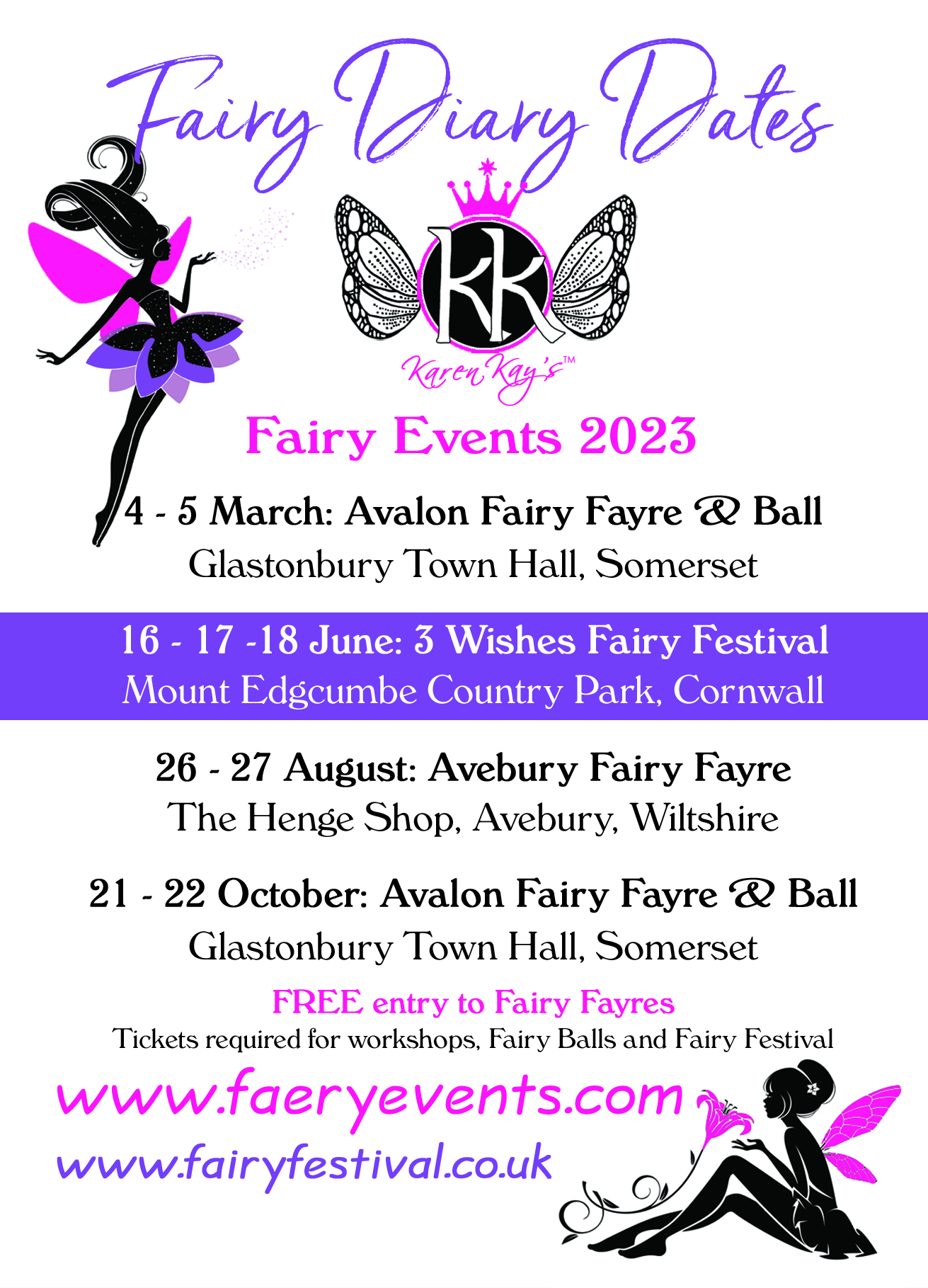 "This is the best one so far!" – Brian Froud
Dear Karen, You are the most amazing organiser of World Cultural Faery Events, it was so wonderful to be with you at the Faerie Fayre in Glastonbury – David Riche & Myrea Pettit of Fairiesworld
"I am only doing two festival/trading events this year and one of them has to be 3 Wishes. If it's not the law, it should be." – Chris Down
"I have just got back from trading at 3 wishes faery fest and I wanted to tell you how utterly amazing I thought your festival was! I couldn't have loved it more, it's was perfect. In my humble opinion, best festival ever 🙂 . I will definitely be back next year and bringing lots of people with me!" – Hugs, Katie xxx
"Very many congratulations indeed for organising such a fantastic event – the organisation was smooth and professional yet very relaxed and enjoyable. One of the best events I have ever attended." – Wendy
"I would like to grab opportunity to say thank you to you both for giving us chance to be part if your wonderful festival. I hope that we have satisfied you. Also would like to mention that all the traders and people in this festival were very friendly and supportive. If you can put us in your trader list for next year and every festival would be grateful. Thank you once again." – Priya
"I just wanted to say thank you so much for the weekend, we all had a wonderful time! The whole event was fantastic, and we can't wait for next year!" – Loren
"Just wanted to say we came on Sunday and had a fantastic time.we do a lot of festival every year and yours was one of the best we have been to. It's also good where the participants at the festival are just as interesting as the performers! The Eartheart cafe was a lovely space, good food and some great sounds being played. I loved seeing mad dog mcrea and 3 daft monkeys on the main stage and seeing a sea of smiling happy faces!" – Jeff
"Just to say thank you for organising such a lovely weekend. The whole atmosphere was just lovely and the site staff were amazingly well organised and helpful – we genuinely felt it was an honour to be invited to bring our stall and thoroughly enjoyed meeting everyone. You have created something truly lovely and we appreciate being able to share in it." – Claire
"What a corker this one was. I've been going to festivals for 35 years and this has to be one of the best. Simple as that." – Chris Down
"It's like festivals used to be like at Faery Festival… and very family friendly" – Tweet Bus ‏@Tweet_Bus via Twitter
Fantastic review of 3 Wishes Faery by Natalia Fedoruk of MoonBeeCreations Fest http://www.fedoruk.co.uk/3-wishes-faery-fest-2014-a-festival-like-no-other/