Next dates: 7th & 8th March 2020
---
View Details of the 2019 event here:
The Spring Pre-Raphaelite Fairy Ball & Fayre

A gallery of exhibitors and special guests attending our event this weekend!
Headline by Seed Pagan Folk from the Netherlands

Fairy Fayre 9th – 10th March
Glastonbury Town Hall, Town Hall, Magdalene St, Glastonbury, Somerset BA6 9EL
A magical weekend of faerie fun with arts, crafts, stalls, talks, workshops, and Faery ball!
Daytime entry to the Faery Fayre is FREE! just turn up! 
Entry to the daytime fairy fayre is FREE (Children and families welcome). The doors open on Sat 9th March at 10.30am until 5pm. Then we re-open for the Ball at 8pm until midnight, make sure you arrive early as the fun starts at 8.00pm! There is a charge for the evening Faery Ball. On Sunday we open the doors at 11am until 4.30pm.
Workshops
There are 4 workshops on Saturday 9th March held upstairs at the Town Hall. Purchase tickets here.
Q&A and Talk with Wendy and Brian Froud 4pm cost £6 (SOLD OUT!)
In this fascinating talk Brian and Wendy will talk about the wonderful and magical world of the Frouds. You never know what will happen during one of their talks, so expect the unexpected! Working on movies like Labyrinth, The Dark Crystal, including the new Dark Crystal series for Netflix, Brian and Wendy, and their son Toby, are constantly creating and sharing their faerie magic, making our world even more wonderful and magical!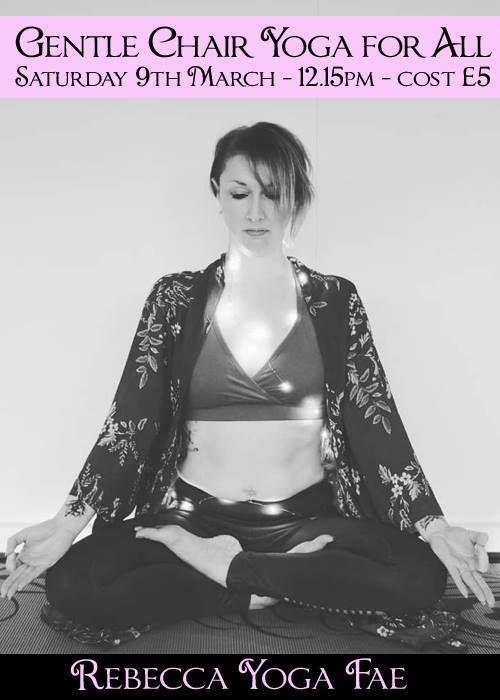 Gentle chair Yoga with Rebecca Yoga Fae at 12.15 cost £5
Join Rebecca to explore the connection between yoga and Fae realm. Rebecca will explain how the fairies have initiated and guided her in her own practice and offer you the opportunity to learn how to connect with fae energy through movement and breath. The workshop will involve some very gentle chair based yoga movements suitable for any age.
"There is magic in your movement".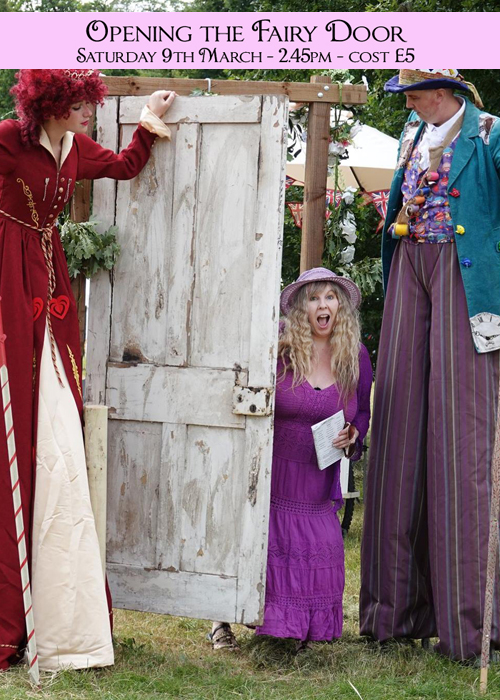 Opening the Fairy Door with Karen Kay, The Fairy Lady at 2.45pm cost £5
Welcome the fairies into your life and let the magic flow! Karen Kay, the Fairy Lady will be opening the fairy door during this workshop which will include a talk, a fairy door meditation to connect with the fairies, Q&A and a sprinkling of fairy dust (eco of course!). Experience the beautiful and magical energy of the fairies as you step through the fairy door for the highest good of all. Karen Kay is a Hay House Author. Her fairy journey started in her Grandmother's garden where she used to make perfume for the fairies as a young girl. She currently writes a fairy column for Soul & Spirit magazine, and her ORACLE OF THE FAIRIES cards will be published in 2019.

CONNECTING WITH FLOWER FAIRIES – exploring the healing energies of flowers with ANGELA SESSIONS (1 hour) 1.30pm cost £5
In this workshop we will discuss the healing energies of plants focusing specifically on flowers. Flowers give us beautiful vibrational healing energies which we will access through meditation. We will meet the spirit of the flower and the fae that protects and nurtures it. You will leave with a deeper understanding of the flower fairies, plant spirit medicine and the healing energies of flowers.
Please note this workshop is not suitable for young children due to meditation. You will be provided with a flower.

---
*By attending our events you agree to be filmed and/or photographed for promotional use, this includes TV.
FOLLOW Karen Kay's Faery Events on Instagram