EXCITED is an understatement! The time is flying by and in a few short and sweet days we will be together in Glastonbury in celebration of the fairies! Yay!
Firstly, please note the updated workshops and talks schedule
The beautiful and magical DOLLFACE MUA is stepping in at the last moment to share her exclusive:
Faery Glamour Demo: The Eyes Have It!
Flavia and Barbara are no longer attending as their cat is very unwell. Sending love to them all.
We have just received the
FAIRY FLASH TATTOO SHEET
From Temperance Tattoo in Glastonbury! Email @Temperancetattoo@yahoo.com with any Q's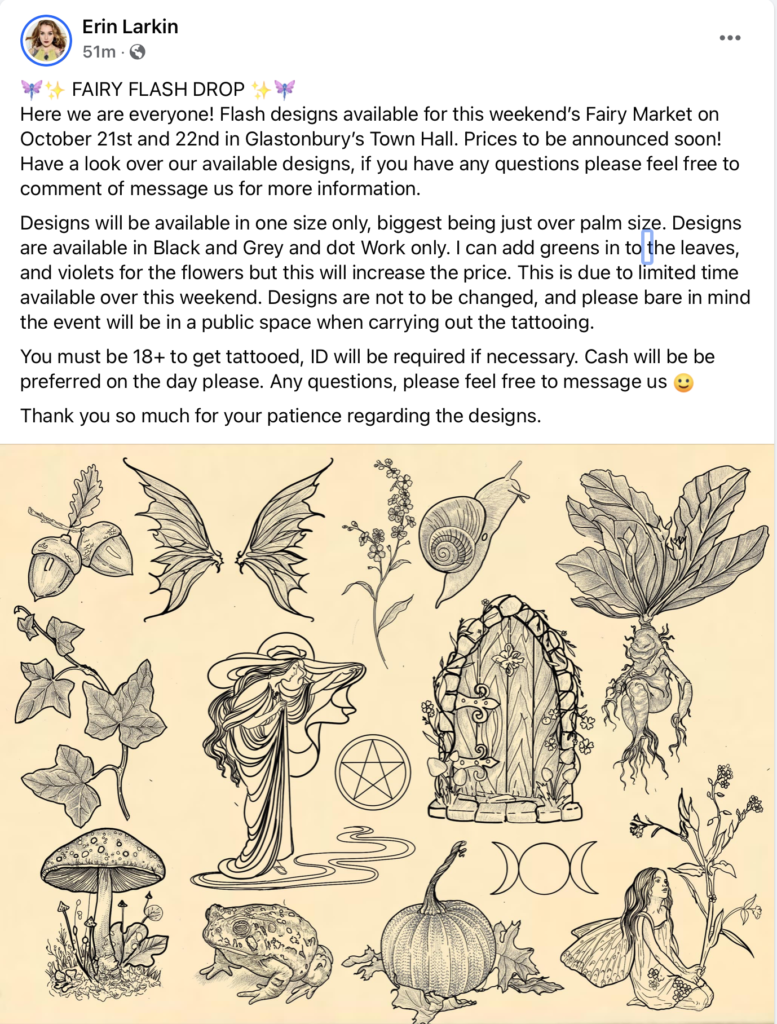 ---
On Saturday evening at the SOLD OUT Witchy Fae Fairy Ball, you are warmly invited to partake in the opening ceremony, where we will send some high-vibe love and peaceful energy around the world, to where it's needed the most. This starts at 9pm in the main hall where the ball is held.
---
There's still a few slots left if you'd like to book a Witchy Fae Tea
Venue: Glastonbury Town Hall, Magdalene Street, Somerset
Daytimes only: 21st & 22nd October 2023
Witchy Fae Afternoon Tea with Divination Tea and Tasseography (Tea Leaf Reading – Fortune-Telling) with the magical Seren, at the Glastonbury Fairy Weekend, during the daytimes (2pm to 4pm) Sat & Sun. Venue: Glastonbury Town Hall, Magdalene Street, Somerset
Witchy Fae High Teas including Tasseography need to be pre-booked HERE
---
The Witchy Fae Tearoom is open for the duration and does not require pre-booking
Open from 10.30am until 5pm Saturday and from 11am until 4.3pm on Sunday.
---
Glastonbury Fairy Weekend
21st & 22nd October 2023
Venue: Glastonbury Town Hall, Magdalene Street, Somerset
An enchanting weekend with faerie market with special guest artists including JASMINE BECKET-GRIFFITH, ANNE SUDWORTH, ARMOREL HAMILTON and more, at Glastonbury Town Hall. The theme is Witchy-Fae Yay! Express your inner witchy-fae sELF in an atmosphere of love and acceptance, dressing up is encouraged and appreciated.
There will be a vegan cafe, a witchy-fae photo-booth during the daytime too, magical make up, face-painting and fairy hair strands and much more! Stayed tuned for our amazing exhibitors, coming in the next newsletter.
Entry to the daytime Fairy Fayre on Sat & Sun is FREE ENTRY – Doors open from 10.30am until 5pm on Saturday, and from 11am until 4.30pm on Sunday.
---
EXTRA EVENT!
Sunday 22nd October at 7pm
Excited to welcome everyone to this post-event witchy fae celebration with plant-based yummy food and fae friends. A time to chat and chill in magical company after a busy weekend at the
Glastonbury Fairy Weekend + Witchy Fae Ball
---
DATES FOR YOUR FAIRY DIARY 2024
Join the Faery Events Family Group on Facebook
---
for the FROUDIAN FAERIE BALL
2nd March 2024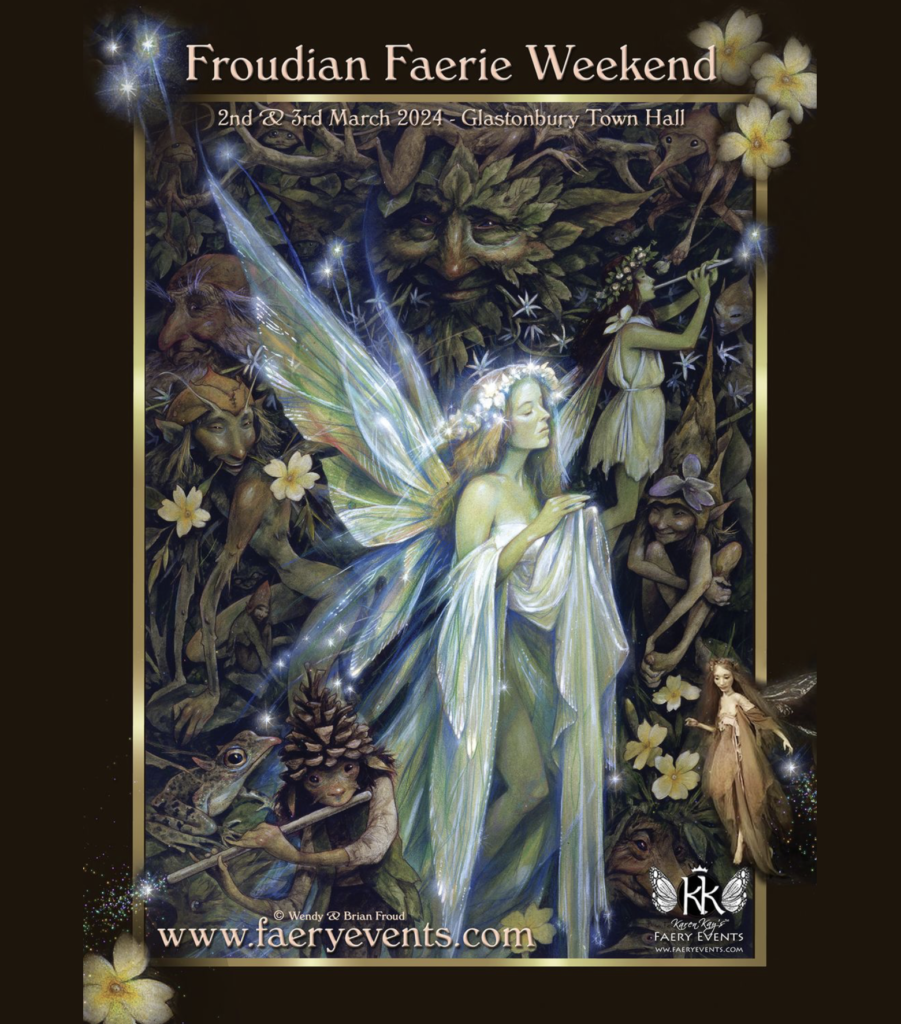 JOIN THE FROUDIAN FAERIE FACEBOOK EVENT PAGE
---
The new oracle deck by Faery Events Founder, Karen Kay
Arrives in time for the Solstice/Christmas